Vehicle Trim & Assembly
The year, make and model is typically all the information you need to know about your car or truck, but what about its trim and factory tire/wheel size commonly referred to as assembly?
Knowing your vehicle's trim and assembly will help narrow down your specific options when browsing for tires and wheels, shopping for vehicle-specific tires.
What is my Vehicle Trim?
Trim typically denotes specific name-based packages that a vehicle is manufactured and sold as.
Some examples include: DX, EX, ECO, FX, GT, Hybrid, LX, LTD, Pro, S, ST, STD, SVT, Sport as well as other numerical or single letter additions to a vehicle's model name.
These are generally displayed as stickers or often with raised chrome lettering or badges on the trunk or tailgate fascia of a car or truck.
Why is this important to know when buying tires? Vehicle assembly year, make, model and trim levels can vary significantly in their wheel or rim sizes, which directly affect the tires that will fit.
Where else can you find this information?
Your registration information should indicate your vehicle trim if it cannot be found elsewhere. Entering the VIN (vehicle identification number) in a VIN decoder tool can also help show what trim level your vehicle is.
What is my Vehicle Assembly?
This information provides the exact measurements of the tire/wheel assembly that was used straight from the factory. Because of the demand for different wheel designs and sizes as a factory option, there is often needed distinction between tire/wheel sizes.
Generally, this information is most specific when it comes to your tire size; section width, aspect ratio and wheel size.
If you don't know off the top of your head, your next best option is to simply read the sidewall of your current tires. It may be helpful for later to snap a photo of your tire sidewall info with your phone or even write it down.
And if you aren't the original owner of the vehicle, checking the actual tire size of your current tires will eliminate any doubt that whether its previous owners may have changed its tire size.
The factory tire size can also be found on your vehicles door placard, which is a sticker typically located inside the driver's door.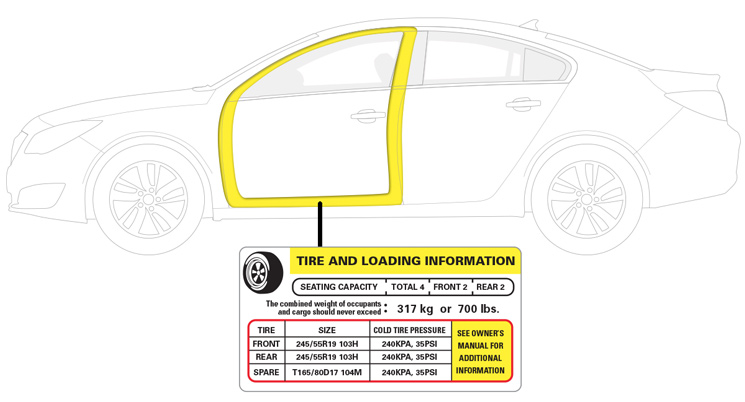 We want to provide you the most specific and accurate options possible, whether you're simply browsing our tire inventory online or getting ready to get your vehicle fitted for new tires or wheels. If you have any questions, please give us a call at 800-589-6789.