TPMS Rebuild Kits
If your vehicle was manufactured after 2007, it comes equipped with a tire pressure monitoring system (TPMS). These systems monitor the air pressure in your tires to alert you when it becomes low.
TPMS systems come in two different types, direct or indirect. A direct TPMS uses sensors in each wheel to communicate pressure information to a central vehicle receiver, while an indirect TPMS determines pressure information by estimating a tire's rotational speed.
If you have a direct TPMS, the sensors will need to be rebuilt every time the tire is removed from the wheel due to:
Some replaceable parts of the sensor can corrode over time
The sealing components become brittle and increase the risk of air loss causing a low or flat tire
A TPMS rebuild kit contains key replacement parts that keep your TPMS sensor in proper working order. By replacing these wearable parts of the sensor, it will ensure optimal sensor performance.
Rubber TPMS Rebuild Kit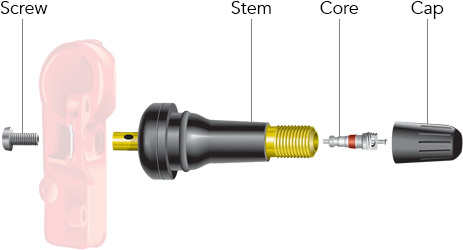 The rubber TPMS rebuild kit includes the valve stem, core, cap, and screw.
Metal TPMS Rebuild Kit
The metal TPMS rebuild kit includes the rubber grommet, retaining nut, core, and cap.
TPMS Sensor Replacement
In some situations, your TPMS sensor needs to be replaced. Tire sealant, corrosion from the elements and a weak or dead battery can make sensor replacement necessary. TPMS batteries last approximately 7-10 years or 100,000 miles.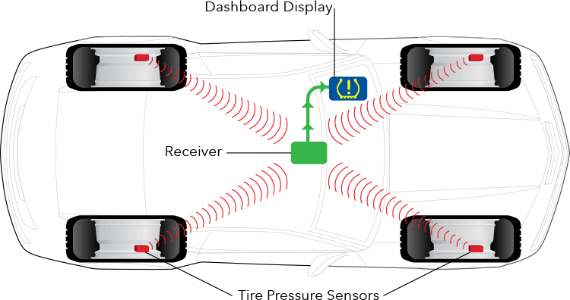 In addition to replacing damaged or dead sensors we carry additional sensors that can be placed on your alternate set of tires and wheels. These sensors can be useful if you have another set of tires for seasonal or competition use. Additionally, we offer stand-alone TPMS kits for vehicles without original-equipment systems. These kits contain a dash-mounted display and four wheel-mounted transmitters compatible with most wheel applications. These systems are perfect for trailers and older vehicles that lack TPMS systems.
Learn more about TPMS facts and troubleshooting.