Tires Below 45 Degrees
When it comes to driving in winter conditions, a common misconception is that all-season tires will deliver the same results as a winter tire. Winter tires drastically vary from all-season tires in both construction, and functionality.
---
Rubber Compounds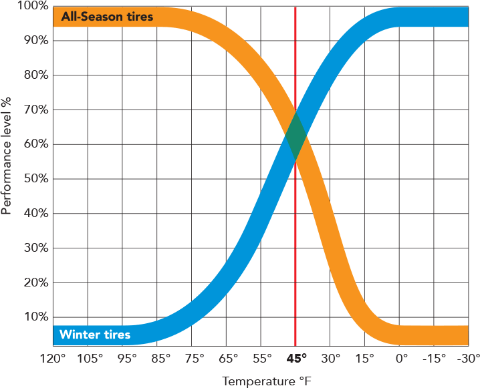 The rubber compounds that make up winter tires are designed to deliver the best possible winter traction, whether it be dry, wet, slush, snow, or ice. Most winter rubber compounds have one or more of these features:
All winter tires feature a tread compound that is engineered to remain flexible below 45 degrees. This allows winter tires to retain traction where all-season tires begin to slip.
Some winter tire compounds feature small "bite particles" which behave almost like studs, adding extra grip for icy road conditions.
Some winter compounds also feature silica-based micro pore compounds, which bite through surface water, adding grip on icy surfaces.
Where winter tires are optimized for exceptional winter traction, the compounds that make up all-season tires are designed to perform well in more moderate conditions, particularly when temperatures are warmer.
All-season rubber compounds stiffen as temperatures drop. By the time temperatures drop below 45 degrees, all-season tires are hard enough to begin losing traction. This makes braking, accelerating, and cornering less reliable.
All-season rubber compounds are optimized for longevity and ride comfort. This is great for spring, summer, and fall driving, but it makes winter driving unreliable at best, and dangerous at worst.
Tread Pattern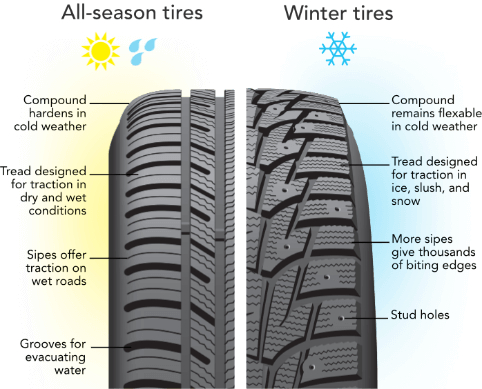 Winter tire tread patterns are designed specifically for safer traction during winter driving conditions. This means more confident driving during the worst winter driving conditions. Here are some of the many tread pattern features that make winter tires the best option for cold weather driving:
Wide circumferential grooves that enhance traction in slush and snow by rapidly expelling buildup from the contact patch of the tire.
Smaller shoulder blocks that increase the number of biting edges for grip in snow and ice, without impairing handling or ride comfort.
Highly dense sipe patterns that add thousands of extra biting edges. This increases grip in icy conditions.
All-season tread patterns, on the other hand, are designed to provide good wet weather grip, dry traction and handling, with only some winter grip. These different facets of seasonal driving lead to compromises that make all-season tires less effective in winter:
Larger, wider shoulder blocks that are optimized for superior cornering, wear, and all-season traction. They provide less grip in snow and ice.
Smoother tread patterns that provide highway comfort and resistance to uneven wear. This makes them less effective at expelling snow and slush from the contact patch.
All-season tires have minimal sipes, when compared to winter tires. While all-season tires provide some ice traction, far more sipes are necessary for optimal winter grip.
Winter Tire Safety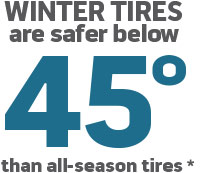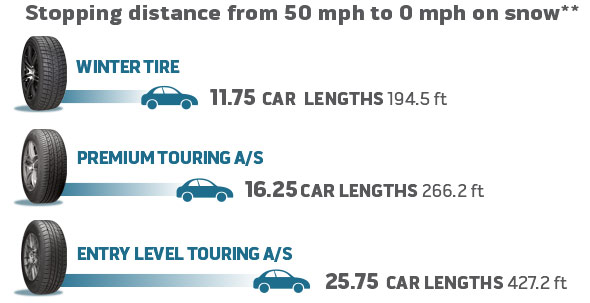 * Winter tires maintain flexibility and road grip when temperatures drop below 45 degrees
** Stopping distance gets longer with less tread depth
Severe Weather Symbol

If you want to be certain that your tires are ready for winter driving conditions, check for the 3-peak Severe Mountain Snowflake Symbol, a snowflake inside a 3-peaked mountain. If this logo is on the sidewall of your tires, that means they have been tested and proven under the harshest winter driving conditions. This means your tires meet or exceed standards put in place by the U.S. Tire Manufacturers Association (USTMA).
If you deal with regular snow and ice, or it is consistently below 45 degrees where you live, winter tires are the safest bet for your vehicle even if conditions are dry. We recommend installing winter tires early to avoid the rush and be safe as soon as possible.
Learn more about Winter Tire Changovers.
Feel free to check out our Winter Tires FAQs page, or give us a call at 800.589.6789 if you have any additional questions around winter tire safety. We are happy to help out in any way we can.