Plus Sizing Tires & Wheels
"Plus sizing" means replacing your original equipment wheels with larger diameter wheels and wider tires with a shorter sidewall. The overall diameter of the original tire stays the same, which helps you preserve the integrity of the gearing, maintain speedometer accuracy, and ensures that the new tires and wheels fit properly.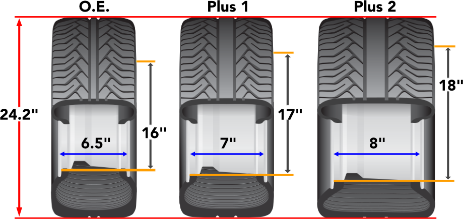 "Plus one" means that you increase the wheel diameter by one inch (1") more than the original equipment (OE) wheel. "Plus two" means increasing the wheel diameter by two inches (2"). "Plus three" represents a three-inch (3") increase, and so on. This can also be said about the opposite. Plus zero would be the same wheel size as the OE wheel, just an increase in tire size. Continuing to downsize, "Minus one" is decreasing the wheel size by one inch (-1"). Minus down sizing is very common for winter use as this increases the tire sidewall height and can even lower the cost of smaller sized aftermarket wheels for a winter change-over.
For example: A 16x6.5 wheel and 205/55R-16 tire. A typical plus one (1") size would be a 17x7 wheel and a 225/45R-17. Then, a plus two (2") would be 18x8 and 235/40R-18.
Keep in mind when "Plus Sizing" your tires that the larger diameter wheels are often wider and may require a wider tire as well. Always be sure that your new tires and wheels are of a compatible width. No matter what tire and wheel combination you choose, be sure to maintain the original load carrying capacity.
Pros and Cons of "Plus Sizing"
Like any other vehicle modification, Plus Sizing tires and wheels has its pros and cons.
The two main pros of "Plus Sizing" include aesthetic appeal and improved handling. When you Plus Size tires and wheels, you can customize your vehicle to fit your style.
"Plus Sizing" your tires and wheels improves performance because the decreased sidewall height improves stability and increases steering response
While this can step up your style and increase steering response and handling performance, it may diminish ride comfort. The smaller tire sidewall doesn't absorb impacts as effectively, while larger wheels also tend to be heavier, which decreases fuel economy, acceleration, and road noise reduction capability.
Check out each "plus size" pro and con:
Factory Size - Best for drivers seeking well-rounded performance in a variety of driving situations
Plus One (1") - Provides better handling and cornering at the cost of ride quality
Plus Two (2") - Provides style and responsiveness, but reduces ride quality even further
Plus Three (3") and above - Provides maximum style while significantly reducing suspension and ride quality. Potholes, curbs, snow and ice, and other hazards pose extra risk to vehicles rolling on these substantially larger wheels
For more information about selecting the proper "plus sizes" for your vehicle, give us a call at 800-589-6789. Our friendly staff can help you determine the best wheel size for your vehicle and make sure you get the wheels and tires that match the look you want.
Always consult your vehicle's owner's manual and tire manufacturer's information for their recommendations for proper wheel and tire "plus sizing".