Types of ATV/UTV Tires
All-Terrain Vehicles (ATV's) and Utility-Terrain Vehicles (UTV's) are much like cars in that having the right tire can make all the difference when it comes to traction & performance.

There are a few different tire types for ATV/UTV's – all-terrain tires, mud tires, racing tires, and sand tires. While there are crossover performance qualities between some of the tires, you will find you get the best performance out of your ATV and its tires by using the tires for their intended purpose.
In some cases, use outside of their intended environment can be damaging to the tires. This is true of sand tires, which not only provide little traction outside of sand, but also tend to sustain serious damage in harder surfaces. For the safest, most ideal performance, you should choose your ATV/UTV tires based on the types of surfaces you drive on most often.
ATV/UTV All-Terrain Tires
All-terrain tires are designed to perform in a variety of terrains. They perform well on soft-packed trails, in water, and light mud. Their tread patterns can vary quite a bit, but they are usually fairly aggressive. They are not as aggressive as mud tires, and their tread depth is shallower than that of a mud tire. All-terrain ATV/UTV tires are good in a variety of mild to moderate terrains.
If you see a lot of extreme terrain driving, such as heavy sand or deep mud, a more specialized tire may be a better choice for you. All-terrain tires are one of the most selected ATV/UTV tires, because they are great for casual exploration of most terrains.
---
ATV/UTV Mud Tires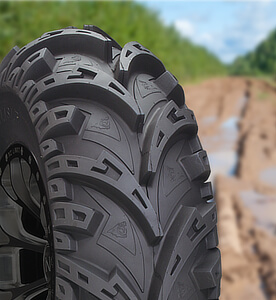 Mud tires are designed for optimal performance in, you guessed it, mud. They typically have very aggressive tread patterns, large individual lugs and large void spaces between the lugs. Mud tires are designed to be self-cleaning, meaning that they actively push mud out and away from the contact patch of the tire. They are often designed in a directional tread pattern to provide efficient self-cleaning, allowing for better grip in mud.
---
ATV/UTV Racing Tires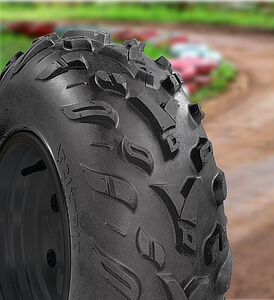 If you use your ATV/UTV for trail racing, you need a tire that has grip and steering response. ATV racing tires are designed for just that. They have a more regulated tread pattern with sharp edges for delivering excellent grip and more constant contact on harder compact trails often associated with trail racing. Racing tires are designed for hard-packed surfaces, therefore, they do not do well in loose surfaces such as sand or mud.
---
ATV/UTV Sand Tires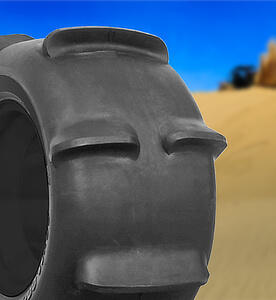 While the other ATV/UTV tires may provide some small use in other settings, sand tires are designed exclusively for sand. Their tread patterns are so particular that not only will you get little use out of them in hard-packed surfaces or in mud, but they can be easily damaged outside of their intended environment.
Sand tires typically have staggered tread patterns, meaning that the front tires have a different tread pattern than the rear tires. The rear tread pattern will generally feature extreme amounts of void with large scoop-like tread lugs. These are the drive tires. The front tires usually feature smooth tread without any individual lugs. Some front axle sand tires will feature a raised ridge that wraps around the circumference of the tire. That ridge is designed to provide steering control and lateral stability.
Always consult your vehicle's owner's manual, and tire manufacturer's recommendations, for proper vehicle and tire usage.