Shipping Policy
Fast and Free Shipping
We primarily ship via UPS and FedEX ground services due to low cost and reliability. For the quickest possible service, we try to ship from the warehouse closest to you. View our shipping maps to estimate the travel time for you package by locating the warehouse nearest you:
From our Arizona Warehouse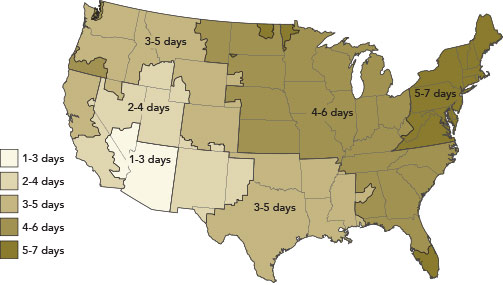 From our Georgia Warehouse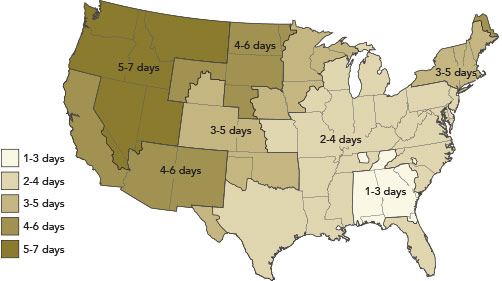 From our Ohio Warehouse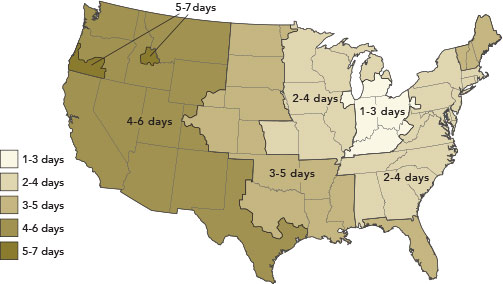 NOTE: If you need to get your package a little faster we also offer UPS Next Day Air and Second Day Air at an extra charge.
Shipping to Hawaii and Alaska
Orders shipping to Alaska or Hawaii can be shipped via UPS Standard Ground, UPS Second Day Air and UPS Next Day Air for the fastest delivery. Some alternative shipping methods include USPS Parcel Post and USPS Parcel Priority. Orders can be paid for using MasterCard, Visa, American Express, Discover (all credit cards must be U.S. bank issue), PayPal, and Postal Money Orders.
Shipping to Canada
For our neighbors to the north, we ship UPS Standard Service (five to seven days), Expedited (three day) or Express (overnight). We can accept American Express, MasterCard, Visa, PayPal, or Postal Money Order for payment.
Armed Services and Government Employees
Shipping for those in the Armed Services or government employees stationed overseas is handled through the United States Postal Service. Your package will be shipped via Parcel Post, with Priority Mail services available for an additional charge. For payment we accept MasterCard, Visa, American Express, and Discover.
International Shipping
International orders are shipped via UPS Expedited (3 to 4 days) or UPS Express (1 to 2 days) air services. We can also use a freight forwarder of your choice. Accepted payment methods for international orders are American Express, or Bank Wire Transfer. For details, please contact your salesperson.
Shipping Cost Calculator
We offer Free Ground Shipping on all in-stock tires and wheels for the 48 contiguous states. If you need to get your order expedited, our checkout process will calculate the exact cost of 2nd day or next day shipping within the United States. For international shipping costs, please use the UPS Time and Cost Calculator.
The following information will help you in using the UPS Quick Cost Calculator.
Determine the location of the warehouse nearest you and enter the corresponding zip code in the "Origin" section:
Arizona 85043
Georgia 30213
Ohio 43137
Enter your destination information.
The Drop Off/Pickup field: select "Daily Pickup Service".
The Packaging field: select "Your Packaging".
Most tires are shipped in bundles of two, and a tire mounted on a wheel is shipped as a single package. Each would weigh approximately 50 pounds. Don't worry about dimensions or insurance. The cost will still be fairly accurate.